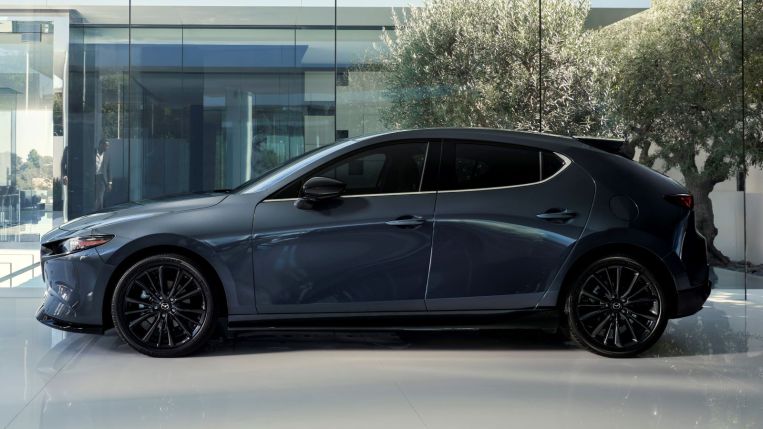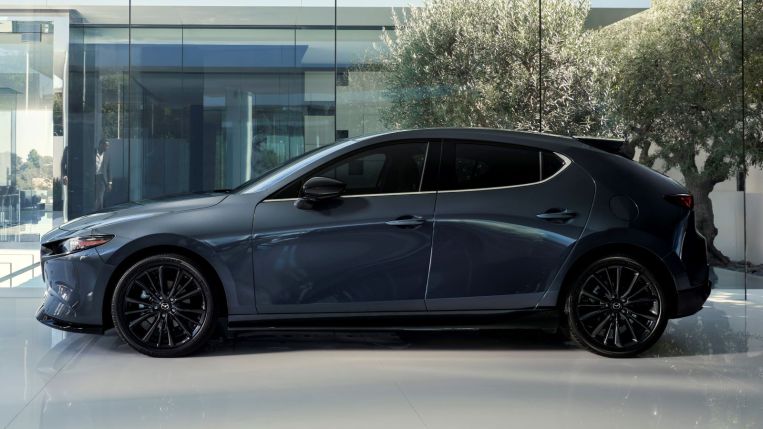 Starting Price: $21,150 | Price Yours
KBB Rating: 4.0 out of 5
The Mazda3 is a long-time favorite among car reviewers and enthusiasts everywhere. It's stylish inside and out, fun to drive, and lives up to its positioning as something of a semi-premium option among mainstream compact cars. In fact, in our full review, we called the Mazda3's top trims "credible competition to entry-level luxury cars like an Audi A3 or Acura ILX."
The lineup also features one of the broadest arrays of engines in the category. Let's take a look.
The Irrelevant Engine
2.0-liter 4-cylinder
155 horsepower
150 lb-ft of torque
0-60 mph: 7.9 seconds
EPA City/Highway/Combined Fuel Economy: 28/36/31 mpg (Auto)
Price of entry: $21,150
Let's not waste much time with this one. This engine is found only on the sedan, and only on the base model. There's a very good chance your nearest Mazda dealer doesn't even have one of these on the lot right now. Next.
The Popular Engine (Recommended)
2.5-liter 4-cylinder
186 horsepower
186 lb-ft of torque
0-60 mph: 6.9 seconds
EPA City/Highway/Combined Fuel Economy: 26/35/30 mpg (Auto, FWD); 25/33/28 mpg (Auto, AWD)
Price of entry: $22,100
This is the best-selling engine in the Mazda3 lineup, and the one we recommend for most buyers. It's responsive around town and provides more than enough power for merging and passing.
But the same engine and transmission tuning that helps make the Mazda3 one of the most fun-to-drive compact cars of all time also lands it in the bottom half of the segment when it comes to fuel economy.
If you're in the dwindling but passionate group insistent on being more involved in the process, you'll be relieved to know the Mazda3 is available with a manual transmission. Frankly, if there's any bread-and-butter compact car that deserves a manual option, it's the Mazda3. But it's available on exactly one trim. Here's the code: Mazda3 2.5 S Premium Hatchback FWD.
The Mazda3 is also one of just two compact cars available with all-wheel drive (AWD). Some buyers need the added traction to help tackle their local weather conditions. Others want the added traction for performance considerations. For the majority, front-wheel drive (FWD) is just fine.
The Fast Engine
Turbocharged 2.5-liter 4-cylinder
250 horsepower
320 lb-ft of torque
0-60 mph: 5.7 seconds
EPA City/Highway/Combined Fuel Economy: 23/32/27 mpg (Auto, AWD)
Price of entry: $30,900
Offering the kind of power and acceleration typically reserved for dedicated performance models like the VW GTI or Subaru WRX, the Mazda3's turbocharged engine option is overkill for most buyers. For a smaller group, however, it's the Mazda3's killer app and the only engine option on the table. (You know who you are.)
All turbocharged Mazda3 models feature AWD, which helps turn that plentiful power into uninterrupted acceleration.
One wrinkle worth noting: The turbo's 250 horsepower and 320 lb-ft of torque ratings are with 93 octane premium gas. With regular 87 octane, those figures take a bit of a dip to 227 horsepower and 310 lb-ft of torque.
More 2022 Mazda3
Now that you know which engine is right for you, build and price your own 2022 Mazda3 to see this week's Fair Purchase Price, or see the Mazda3 models for sale near you.
The Mazda3 is a long-time favorite among car reviewers and enthusiasts everywhere. It's stylish inside and out, fun to drive, and lives up to its positioning as something of a semi-premium option among mainstream compact cars. In fact, in our full review, we called the Mazda3's top trims "credible competition to entry-level luxury cars like an Audi A3 or Acura ILX."
The lineup also features one of the broadest arrays of engines in the category. Let's take a look.
2.0-liter 4-cylinder
155 horsepower
150 lb-ft of torque
0-60 mph: 7.9 seconds
EPA City/Highway/Combined Fuel Economy: 28/36/31 mpg (Auto)
Price of entry: $21,150
Let's not waste much time with this one. This engine is found only on the sedan, and only on the base model. There's a very good chance your nearest Mazda dealer doesn't even have one of these on the lot right now. Next.
2.5-liter 4-cylinder
186 horsepower
186 lb-ft of torque
0-60 mph: 6.9 seconds
EPA City/Highway/Combined Fuel Economy: 26/35/30 mpg (Auto, FWD); 25/33/28 mpg (Auto, AWD)
Price of entry: $22,100
This is the best-selling engine in the Mazda3 lineup, and the one we recommend for most buyers. It's responsive around town and provides more than enough power for merging and passing.
But the same engine and transmission tuning that helps make the Mazda3 one of the most fun-to-drive compact cars of all time also lands it in the bottom half of the segment when it comes to fuel economy.
If you're in the dwindling but passionate group insistent on being more involved in the process, you'll be relieved to know the Mazda3 is available with a manual transmission. Frankly, if there's any bread-and-butter compact car that deserves a manual option, it's the Mazda3. But it's available on exactly one trim. Here's the code: Mazda3 2.5 S Premium Hatchback FWD.
The Mazda3 is also one of just two compact cars available with all-wheel drive (AWD). Some buyers need the added traction to help tackle their local weather conditions. Others want the added traction for performance considerations. For the majority, front-wheel drive (FWD) is just fine.
Turbocharged 2.5-liter 4-cylinder
250 horsepower
320 lb-ft of torque
0-60 mph: 5.7 seconds
EPA City/Highway/Combined Fuel Economy: 23/32/27 mpg (Auto, AWD)
Price of entry: $30,900
Offering the kind of power and acceleration typically reserved for dedicated performance models like the VW GTI or Subaru WRX, the Mazda3's turbocharged engine option is overkill for most buyers. For a smaller group, however, it's the Mazda3's killer app and the only engine option on the table. (You know who you are.)
All turbocharged Mazda3 models feature AWD, which helps turn that plentiful power into uninterrupted acceleration.
One wrinkle worth noting: The turbo's 250 horsepower and 320 lb-ft of torque ratings are with 93 octane premium gas. With regular 87 octane, those figures take a bit of a dip to 227 horsepower and 310 lb-ft of torque.
Now that you know which engine is right for you, build and price your own 2022 Mazda3 to see this week's Fair Purchase Price, or see the Mazda3 models for sale near you.
The best cars and best deals delivered to your inbox
By subscribing, you agree to our privacy policy
See MAZDA MAZDA3 Reviews & Information
See MAZDA MAZDA3 for Sale
Price the 2022 MAZDA MAZDA3 on KBB.com